Events & News

Questions? Contact ei@ucsd.edu
Past EI Events


About the Expo:
The Educational Innovation Expo was the first in a series of events aimed at campus leaders and faculty. The objective was to explain and explore the different opportunities for innovation at UC San Diego and how the Office of Educational Innovation can support these endeavors. Though conversation, the Expo intended to build community and inspire campus leadership to think different and creatively about how we approach education and pedagogy at UC San Diego. 
Watch: Keynote Speaker and Open Remarks

Introduction/ Opening Remarks
Speaker: Carlos Jensen, PhD,  Associate Vice Chancellor for Educational Innovation (AVC-EI)
---
Keynote Address: An Overview of Arizona State University Online: Unlocking opportunities and creating engaging student experiences
Speaker: Julie Greenwood, PhD, Vice Dean for Educational Initiatives, EdPlus, Arizona State University
Moderated by: Carlos Jensen and Karen Flammer, PhD, Director of Digital Learning, Teaching + Learning Commons
Agenda:
Click HERE to see the full agenda (including recordings of other sessions).
AGENDA:
Welcome and Introduction - 

Carlos Jensen, Associate Vice Chancellor, Educational Innovation

The Approval Process -

 Lori Hullings, Associate Director, Academic Senate 

Intellectual Property - 

Dan Park, Chief Campus Counsel and 

Carlos Jensen

Support and Tools for Faculty - Karen Flammer, Director, Digital Learning
Q&A - 

Carlos Jensen 

Geoff Cook, Chair, Educational Policy (EPC), Academic Senate

Lori Hullings
Dan Park
Karen Flammer, Director, Digital Learning
Affiliated Events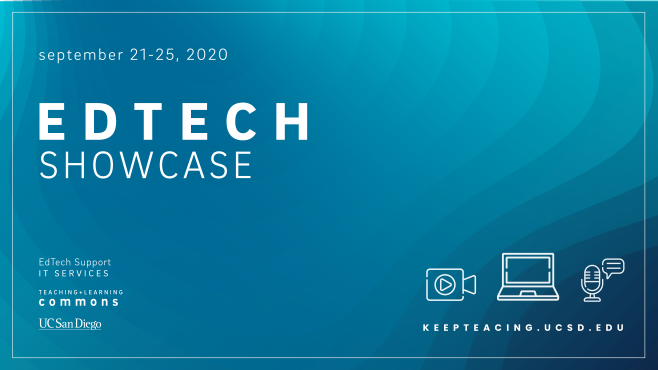 In case you missed the Virtual EdTech Showcase, materials and presentations are available on Canvas. Topics include how to build community in the virtual world, how to engage students in remote settings, and best practices and tips from faculty on teaching from home!